JumpPad++ Mod 1.7.10/1.7.2/1.6.4
JumpPad++ Mod 1.7.10
This is a custom mod based off of the JumpPad mod made by Pfaeff. It adds a good bit off functionality to Pfaeff's jump pad, plus a whole lot of other features! I want to just go ahead and say that the release of this mod is meant to in no way intellectually infringe upon Pfaeff's original idea, and hereby want to establish two precepts before continuing an in-depth look on all of the features I've added:
I give FULL credit to the original creation and idea of the basic jump pad to Pfaeff
I take FULL credit for any of the additional features I have added
Now that that has been established, please continue reading!
(all content is as of the latest revision)
Recipes and general information
Jump Pad – This is the upgraded version of Pfaeff's jump pad that I take no credit for. Launches any entity 5 blocks into the air.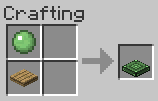 (Everything from here on out is all custom!)
Jump Pad+ – An advanced version of the jump pad that can launch any entity 10 blocks into the air.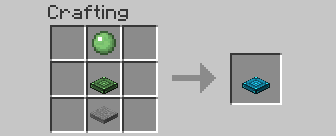 Jump Pad++ – An advanced version of the jump pad+ that can launch any entity 15 blocks into the air.
Portal Pad – A pad that behaves like a miniature Nether portal!
Incineration Pad – A pad that incinerates any entity that touches its top. It's use can probably be apparent!
Speed Pad – A pad with a surface of minimal friction that propels any entities quickly on its surface.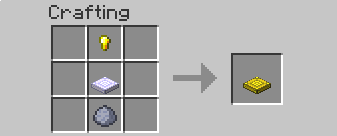 Slow Pad – A pad that reduces the speed of any entity.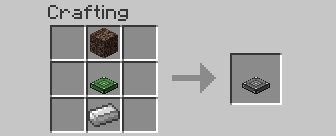 Acceleration Pad – A pad that sets a player to a sprint when walked upon.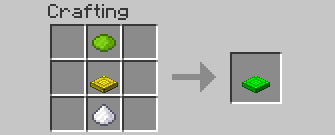 End Pad – A special pad that teleports a player to the End dimension!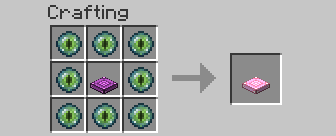 Annihilation Pad – A pad that deals direct damage to any living entity that crosses its surface (a better alternative to the Incineration Pad, if you wish to keep your drops!).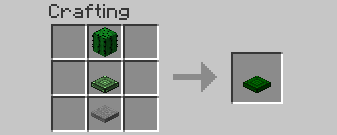 Impact Landing Pad – A pad that absorbs any entity's fall, preventing any damage (inspired by Cheezy WEAPON's recommendation). It does have its limits though, so be careful!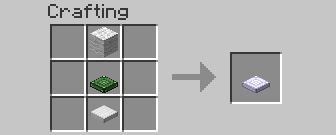 Ballistic Pad – A special pad that explodes whenever any entity touches its surface (what's a great mod w/out explosives?)!
Regeneration Pad – A special pad that regenerates a player's health when clicked!
Spawner Pad – Ever wanted more mob spawners but just couldn't seem to find any? Worry not, for now there is the Spawner Pad! The Spawner Pad is very unique, as well: You can actually designate which mobs to spawn from it! All that's needed is to have an item that's a drop that relates to the mob desired to spawn (e.g. a raw or cooked porkchop for a pig), and right-click that item onto the Spawner Pad, and then that mob will be set to spawn! This only works w/ peaceful mobs currently; there will be a future update that requires a bit more effort for hostile mobs.
Booster Pad – This pad behaves just like the Jump Pad, but allows a player to pass through it (inspired by Cheezy WEAPON's recommendation)!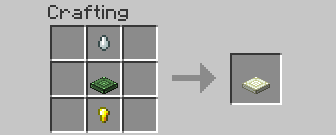 Aqua Pad – A pad that harnesses the usefulness of water! On fire? The aqua pad will extinguish you! Hate cauldrons and want an efficient means of having an infinite water source? The aqua pad will provide it!
Installation JumpPad++ Mod 1.7.10/1.6.4/1.6.2
This mod requires the universal version of MinecraftForge as a prerequisite installation. It can be downloaded from here.
After that's set, just plop your downloaded copy of JumpPad++ into your "mods" folder for either a client or server and you're ready to play!
NOTE: For people joining or hosting a server, be sure the block IDs of the game host and the other players match, otherwise other players will not be able to join the host.
Changelogs:
R20
Initial 1.7 port!
Removed the configuration file since block IDs are no longer a headache
R19-4
Added Chinese translation
Sneaking when bouncing on the Booster Pad will negate bouncing, allowing a player to fall through
Download JumpPad++ Mod 1.7.10/1.6.4/1.6.2
For 1.7.10
http://www.dl3.5minecraft.net/download.php?file=d222f3237e8c59c9185e01310867e739
For 1.7.2
http://www.dl3.5minecraft.net/download.php?file=146b349fb1acc7b2872af2f36cdef639
For 1.6.4
http://dl2.5minecraft.net/download.php?file=0f8d028c35f0298413ec6e59da3f016d

Old version

http://dl2.5minecraft.net/download.php?file=7e5a4419cdfe35f838cee13e8269458e

http://dl2.5minecraft.net/download.php?file=a0a561f7d6b365e2bc27e14d2f2640a0

http://dl2.5minecraft.net/download.php?file=ac0189f510193e1aa62730874525fff8

http://dl2.5minecraft.net/download.php?file=c15630053fbe6e6ca6279d9920459583

http://dl2.5minecraft.net/download.php?file=7e7ec6f2a01d69b404d1f2d76b90e72b

http://dl2.5minecraft.net/download.php?file=bfbdc29de688d147f81d55371863819d
For 1.6.2
http://dl2.5minecraft.net/download.php?file=38a4a0032aacf6475d53327d0412c41f
Credits: MegaT145