Backpacks Mod 1.8/1.7.10/1.7.2/1.6.4/1.6.2/1.5.2
Backpacks Mod
This is a rewrite of MigthyPorks Backpack Mod. Unfortunately he no longer supports this mod. But he put all his code to the net so others can resurrect it.
This is nearly a 100% rewrite of the old mod because the old code was extremely dirty and this is a version for Minecraft Forge.
Recipes:
Normal backpacks:
You craft a backpack like a chest but with leather instead of wood. For a big backpack use tanned leather instead of normal leather.
Backpacks have 27 slots (chest size)
Big backpacks have 54 slots (double chest size)
Colored backpacks:
You can also craft a colored backpack if you put any dye in the middle:
Ender backpack (was Magic backpack before):
Last but not least you can craft an ender backpack (like magic backpack before) which is a portable ender chest which shares its content with the ender chest. You craft it with an ender chest:
Recolor backpacks:
You can recolor backpacks by using a dye or the corresponding leather: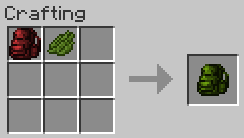 Upgrading backpacks:
You can upgrade any backpack, except the ender backpack, to a big backpack by putting tanned leather around it:
Bound leather:
You can make bound leather with two leather in the middle outer slots and strings in all other slots:
Tanned leather:
You can burn bound leather in a furnance to get tanned leather. One coal is enough for 8 tanned leather.
Installation Backpacks Mod 1.6.4/1.6.2/1.5.2
Install Minecraft Forge if you haven't done it yet
Put the zip in you mods folder
How to use them:
Simple hold a backpack in your hand an right click to open it.
If you want to rename it sneak and right click. You can enter a new name then.
Changelogs:
v2.0.0
Rewrite of most of the code for 1.7 to have a cleaner basis for upcomming features.
New save mechanic (no duplicates, no losses, …)
Fixed the NEI Support that was broken for quite some time
Added support for VersionChecker
v 1.26.29
[BugFix] Not intelligent workbench backpack was crashing when clicking on the craft matrix
v 1.21.24
[BugFix] Fixing incompatibility with forestry
[BugFix] Fixed a bug in SSP where FMLServerStoppingEvent is not called
[BugFix] Fixed EnderBackpack not working
Download Backpacks Mod
For 1.8
http://www.dl3.5minecraft.net/download.php?file=f52de18ccd5b8a51c76aa2fabeb99ae4
For 1.7.10/1.7.2
http://www.dl3.5minecraft.net/download.php?file=c077ea4538f6a56b551bf5524a13a378
For 1.6.4/1.6.2/1.6.x
http://dl2.5minecraft.net/download.php?file=72f64a21506a64b09cdf8e1ee2409997

Old version

http://dl2.5minecraft.net/download.php?file=cb1dea8b413896c04c257ce665a4c74f
For 1.5.2
http://file.5minecraft.net/download.php?file=dc8c73a7cf323ee112b5b3a6798911c4
For 1.5.1
http://file.5minecraft.net/download.php?file=0aedacfefcfee8e1da9db63bef038a79
For 1.5
http://file.5minecraft.net/download.php?file=5f61242c643752e34631955aa2616530
Credits: Eydamos